At Opti-Vise IT, we believe that referrals are the greatest form of flattery.
If you know someone who is worried about any aspect of their business technology, do them a favor and put them in touch with us.
As one of our valued customers, you already know the benefits you get from our services:
By recommending partners, associates, or professional contacts, you can help them enjoy worry-free IT and reap some rewards yourself.
Not Ready To Call Us Just Yet?
If so, we would at least like to send you a copy of our recently published report. 21 Questions To Consider When Hiring An IT Company.
Even if you aren't ready to make a change right now, this book will give you important questions you should ask your current IT person to make sure that their policies, procedures, and service standards won't leave you vulnerable to expensive problems, lost data, viruses, hacker attacks and a host of other problems.
Simply fill out this form and we will send you a copy today!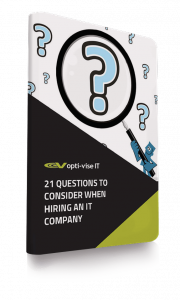 Download This Report Instantly!